ISA Netherlands Section can look back on participation in the World of Technology & Science (WoTS) with satisfaction. The WoTS took place from the 2nd to the 5th of October in Jaarbeurs Utrecht. In those four days, more than 21,000 people visited the WoTS.
The WoTS exhibition served as a meeting point for professionals in industry and science, and attendees could also follow different seminars. Exhibitors had the opportunity to profile the company they represent and their discipline.
The International Society of Automation (ISA) is a leading, global, non-profit organization with more than 30,000 members. The ISA Netherlands Section represents the interests of the Dutch ISA members and informs these professionals during themed evenings, social events and more.
During the WoTS, the ISA Netherlands Section was represented by some of its partners, namely: Poware, Hudson Cybertec, Yellax, Yokogawa and Thermo Electric. The stand of the ISA Netherlands Section was buzzing with activity. Our stand not only welcomed existing members, many new contacts were also made. While enjoying a snack and a drink, the visitors to the stand were informed about important developments and the many possibilities a member of the ISA Netherlands Section can benefit from.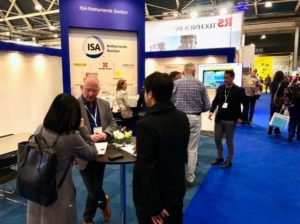 If you missed the WoTS and want to know more about the latest developments of the ISA, then don't hesitate to contact us.